The International Organization for Standardization (ISO) informs thousands of industry leaders around the world about global standards for manufacturing processes, safety requirements, quality assurance, and more. Every few years, they produce updated standards that organizations need to be aware of. 
What is ISO 9000?
ISO 9000:2015, the latest version of a family of standards, describes the fundamental concepts and principles of quality management which are universally applicable to organizations seeking success through their management system, supply chain logistics, improving internal communications, and more. 
These standards also benefit customers who seek confidence in an organization's ability to consistently provide products and services, as strengthening internal standards is reflected externally to customers.
ISO 9000:2015 specifies the terms and definitions that apply to all quality management and quality management system standards developed by ISO/TC 176.
What is ISO 9001?
In comparison, ISO 9001 is a singular measure within the body of the ISO 9000 standards. It specifies requirements for a quality management system when an organization needs to demonstrate its ability to consistently provide products and services that meet customer and applicable statutory and regulatory requirements. 
This individual standard outlines a specific set of regulations that are laid out within a series of clauses. Detailed processes, including gap analysis and internal audits, must be conducted while using ISO 9001 to maintain the quality management system.
All the requirements of ISO 9001:2015 are generic and are intended to apply to any organization, regardless of its type or size, or the products and services it provides; all can benefit from following these standards and principles.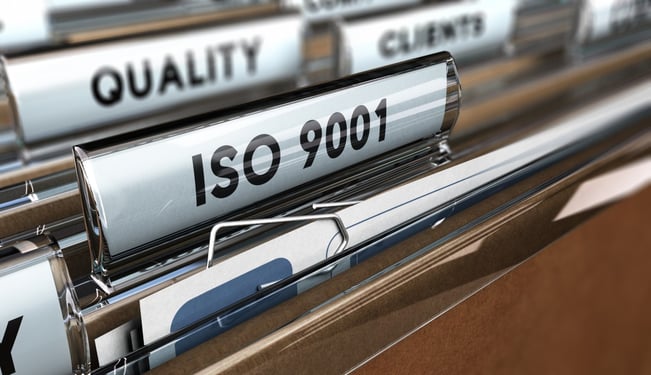 What Does ISO Certified Mean?
To be certified by the ISO means that you adhere to the expectations and qualifications of the latest standards set by the global organization. This certification signifies that your products are consistent with international requirements and that your business is updated on what those latest standards might be, which is beneficial for your company both internally and externally.
By achieving the latest ISO certification, your manufacturing organization demonstrates that it is keeping up with the latest industry standards and regulations. This is crucial for your business as your products should reflect the measures taken to create consistency and confidence in a global manufacturing market.
ISO 9000 vs ISO 9001: Key Differences
Going by how close these numbers are, one might imagine there are few distinctions between these two standards. This, however, is not entirely true.
The key difference: ISO 9000 is something you read up on and get familiar with to understand all of the other specific standards, while ISO 9001 is something that you put actions behind to implement.
ISO 9000 is essentially a collection of vocabulary and definitions for the entire quality management series, whereas the main purpose of ISO 9001 is for the business owner to take action toward more quality procedures. This allows the business owner and company personnel to see a clear difference between where they are currently and where they want to be.